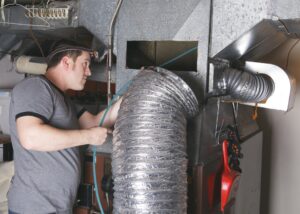 Your air ducts are a vital piece of your home comfort system. In order for the hot air to get into the rooms of your home this winter, you're going to need your ducts to be in good shape.
Think of air ducts like a straw in a glass of soda. Ideally, it helps bring the cool, refreshing drink into your mouth without any problems. Now imagine that straw has a bunch of leaks, tears, and holes in it. All of a sudden, not only are you making a complete mess, but you're wasting precious liquid that you'd rather be drinking instead of cleaning up. Your air ducts are the straw that delivers fresh, comfortable air throughout your home properly.
If you feel like your ducts are the leaky straw in our analogy, then you might need duct sealing in Kalispell, MT. We're going to focus today on why duct sealing is such a helpful service we offer.
The Problem With Leaky Ducts
Leak ducts pose a unique problem for homeowners. We've seen people trying to replace their fairly new heating or air conditioning systems with the idea that it's not performing optimally when, in reality, their HVAC system is fine but their air ducts are in bad shape.
Air ducts can fall into disrepair over time due to the constant expansion and contracting of the material. When your air conditioning produces cool air, your ducts contract like most things do when they cool down. Then, when your heater starts producing hot air, your air ducts expand. This constant shaping of the material will wear down the corners and sides of the ducts until they start losing their seal. Here are a few effects that come from a bad duct seal.
Poor Efficiency
You want to be able to feel comfortable in your home at the lowest energy cost possible. This becomes impossible with leaky air ducts. Your air ducts can start to leak over time to the point where you're losing up to 30% of your conditioned or heated air in crawlspace, basements, and attics where you can't feel it.
Not only is this bad for the components of your HVAC system, but it's a lot of wasted money on your energy or heating bill!
Uncomfortable Temperatures
How is your home supposed to feel comfortable if the hot air that's produced by your heater can't get into the rooms of your house? You might notice certain areas of your home becoming hot or cold spots, and you might start hearing your family members complain about the temperature. There's not much you can do about it when you start tweaking the thermostat. What you really need is duct sealing services.
Bad Air Quality
There's a lot of dust and contaminants that exist in your basement and attic. When air ducts begin to leak and open up holes, those contaminants could waft into your air and cause some serious problems. Sometimes you can even end up with critters and bugs in your air ducts that are both a health issue as well as a quality of life problem.
Call Bill's Superheat, Inc. to have your air ducts sealed professionally. Here to Save the Day!