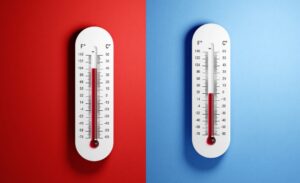 Your heating system might be on its last legs and you're looking into heat pumps as a viable heating replacement in Kalispell, MT. Or, perhaps you're a new homeowner and you'd like to invest in a high-efficiency heat pump that can help lower your energy bills for the next few years. Regardless of what your position is, we can help you by providing some much needed information.
There are a few misconceptions circulating about heat pump systems in our neck of the woods. We live in a pretty cold climate that can be tough on heating systems during the height of winter, which is why it's so important that homeowners understand what systems work and what systems don't.
Can a heat pump work efficiently in a cold climate like ours? Is it a better idea to go with a furnace than a series of ductless mini splits for your heating replacement? We'll answer these questions down below.
Heat Pumps Are Effective in Our Climate
The answer to the question "do heat pumps work in cold climates" is unequivocally yes. However, you're probably not here for a one-word answer. How are heat pumps a good solution? Don't they draw heat from the air, but cold air has less heat to move?
Heat pumps can move heat from one location to another. They either move heat from indoors to the outdoors during the summer, or they move heat from the outdoors to the indoors in the winter. It might feel like there's no heat outside when temperatures are steadily approaching zero, but that's just not true. There's always heat to be drawn from the air, the question is just how much.
Heat pumps require more electricity to draw heat out of the air when temperatures are extremely low. It doesn't mean that they don't work, it just means they have to work harder to get the job done.
Contrary to popular belief, furnaces and boilers have to work harder in cold climates as well. You keep your furnace running longer during the coldest months of the year because you require more heat to stay comfortable. Heat pumps work the same way!
It Depends on Electricity Costs
The efficacy of your heat pump, and especially ductless mini splits, depends on the cost of electricity. In certain areas of the country, electricity is expensive, so a heat pump can run up the bill and cost a lot more during the winter than a furnace.
Luckily, in our area, electricity is extremely affordable. Even if your heat pump has to work harder to provide your home with enough heat to remain comfortable, it shouldn't run your bill too much higher than any other system would.
You Can Get an Energy Rebate Through Us As Well
We're also your best source for heat pump energy rebates as well. This is one of the best ways to save money on a heat pump installation and our team has access to all the most up-to-date information on what energy rebates are available and what tax credits you and your family can take advantage of. Just call us and let's figure it out!
Call Bill's Superheat, Inc. to invest in a heat pump today. Here to Save the Day!