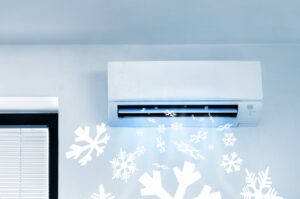 Ductless air conditioners are more common today than they have been in recent history. It's not just because they're some of the newest air conditioning and heating models on the market, but also due to other environmental factors like climate change, rising energy prices, and innovations that make them more convenient than other systems. That's why we'd like to take some time today to talk about why your home might be perfect for our next ductless installation!
Ductless AC in Kalispell, MT is a great way to deal with our fluctuating temperatures each season. From chilly springs to hot falls, we can get a whole range of temperatures throughout the year and ductless heat pumps are designed specifically to deal with them.
These systems aren't just air conditioners either–they're heating systems that can keep your home comfortable on chilly days with just a minor amount of electricity being the cost.
Three Advantages of Ductless Systems
In order for us to talk about why your home might be perfect for a ductless system, we need to talk about some of the unique advantages that come from this technology. Keep in mind that we're trying to be vague because every home is going to have different returns in value when it comes to a new system. But if you call our team of professionals and set up a comfort consultation, we can give you more specific details that will benefit you and your budget.
Energy Efficiency
What happens when you take ductwork out of the HVAC equation? You get fewer leaks, gaps, tears, and the contaminants that come with air ducts. Simply put, ductless systems are–by default–more energy efficient than other heating or cooling systems because they don't have ductwork. The air goes directly from being heated or cooled in the mini split, right back into the room where the system is. This saves a lot on wasted air that could come from a centralized system.
Also, ductless mini splits are heat pumps, which means they use electricity to move heat instead of creating it. This is also another reason why they're so efficient compared to other heating systems that need to create their own heat during the wintertime.
Cost-Savings
Are you in need of a new heating system as well as a new cooling system? Then you're just going to save more money going with a heat pump. This technology both heats and cools your home throughout the year, giving you a single solution for two problems. And, since it's just one system, you can save the money you would otherwise spend on two separate installations. Reinvest that money in maintenance services or a new vacation!
Convenience
Did you know that every ductless mini split can be set to a different temperature threshold? You can keep the living room cooler than the kitchen, and the kids don't have to fight over the thermostat anymore. Ductless mini splits are simply more convenient than other centralized heating or cooling systems, and this is just one reason why your family might be happier with one.
Here to Save the Day! Contact Bill's Superheat, Inc. to invest in your very own ductless heat pump.